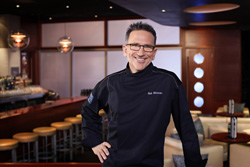 Literature, food and great chefs of Las Vegas come together on Sunday, Nov. 7, at the Vegas Valley Book Festival. Celebrity chef Rick Moonen will host "Feasting on Words – The Literature & Food Fair" from 11 a.m. to 4 p.m. downtown at the Historic Fifth Street School. Moonen, of Rick Moonen's rm seafood at Mandalay Bay and author of "Fish Without a Doubt," is one of the country's top culinary advocates for sustainable seafood. The day will offer a wide variety of programs and special events related to food, cooking traditions, literature and books. All events are free and open to the public.
A highlight of the day will be cooking demonstrations from noon to 2 p.m. by nine acclaimed Las Vegas chefs. Cooking side by side on a wood-fired "community grill" located in the courtyard of the school, participating chefs will prepare a diverse range of free food tastings as a kind of "global culinary palette." The chefs expect to provide nearly 4,000 tastings that will appeal to the diversity of residents and visitors. Participating chefs will include Mike Minor of Border Grill (Mandalay Bay), Megan Romano of Charlie Palmer Restaurant Group (Four Seasons and Aureole), Lorin Watada of Bachi Burger, Jet Tila of Wazuzu (Encore), Sven Mede of American Fish by Michael Mina (Aria), Geno Bernardo of Nove Italiano (The Palms), Jean Paul Labadie of Marché Bacchus French Bistro & Wine Market, Kuldeep Singh of Origin India Restaurant & Bar and Moonen.
"When the chefs come together to cook, side by side, on one long, shared grill, you'll see and taste a diverse range of culinary traditions," said Moonen. "And you'll also see a celebration of community. This is our gift to the community."
The Sunday food fair also includes an 11 a.m. panel discussion on Las Vegas cuisine by three recognized local food critics, John Curtas, Max Jacobson, and Al Mancini, referencing their collaborative new book, "Eating Las Vegas: The 50 Essential Restaurants" (Huntington Press). Award-winning author, Deborah Madison, will discuss her best-selling cookbooks with recipes based on farmers' markets and fresh local produce at 12:15 p.m. Davia Nelson and Nikki Silva, the innovative Kitchen Sisters of National Public Radio fame, will appear on stage at 1:30 p.m., with a program about the "hidden kitchens of America and Las Vegas."
Other highlights include:
* A local farmers' market with China Ranch Dates, Moapa Valley Apples and other regional produce;
* "Shake & Stir," an exhibition of vintage cocktail books from the collection of Pamela Grogan in the Gallery of the Historic Fifth Street School, with mixology demonstrations inspired by the collection;
* An outdoor stage, hosted by Nevada Public Radio's "Desert Companion" staff, fielding live twitter comments about the community grill and other events of the day;
* A "Kids in the Kitchen" plaza, sponsored by Junior League of Las Vegas, that includes a kids' cookbook-making project, free children's books provided by Walmart and activities inspired by the work of Gilcrease Orchard;
* Local actor Jeff Granstrom presenting short readings from great literature about eating, food and culture in the Frank Wright Fountain Courtyard;
* The city of Las Vegas Planning & Development Department "Walkable Community" display;
* The Amber Unicorn used book sale, specializing in used cookbooks;
* A beer and wine garden in the plaza, The Ace of Clubs Bar, inspired by Superman comics;
* A table-top competition on the theme of great books, with prizes awarded for best of show;
* The "Lookin' Good Cookin'" vintage apron exhibit;
* A health and nutrition monitoring station provided by Valley Health Systems.
The Vegas Valley Book Festival, planned for Nov. 3-7, 2010, is produced by the city of Las Vegas; Las Vegas-Clark County Library District; UNLV's Black Mountain Institute; Las Vegas Review-Journal; Las Vegas chapter of AIGA, the professional association for design; and Nevada Humanities, a festival founder. The five-day festival presents 100 authors in readings, workshops and panel discussions on Saturday, Nov. 6, at the Historic Fifth Street School. In addition, the festival hosts a Children's Book Festival at Centennial Plaza and a Comic Book Festival at the Clark County Library on Nov. 6. More than 10,000 people are expected to attend festival events.
For more information about the Vegas Valley Book Festival and a schedule, go online to www.artslasvegas.org and www.vegasvalleybookfestival.org, or call (702) 229-5431.
Related Links:
Border Grill Reservations and Information
Charlie Palmer Reservations and Information
Aureole Reservations and Information
Nove Italiano Reservations and Information
rm Seafood Reservations and Information
Mandalay Bay Resort and Casino