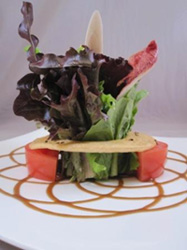 Legendary Las Vegas Chef André Rochat Showcases Palette-Pleasing Meatless Menu to Benefit Nevada Cancer Institute.
National Vegetarian Month kicks off October 1. To mark this occasion and increase awareness of the variety of delicious meat-free options, Alizé at the Top of the Palms is offering a special, six-course vegetarian tasting menu. Featuring mouth-watering meat- alternatives that are both tasty and fulfilling, the special menu is priced at $55 per person. Even more appetizing is $5 of every vegetarian tasting menu purchased will be donated to Nevada Cancer Institute.
Field Greens & Herbs with Caraway Cracker
Balsamic Vinegar, Hearts of Palm
Chilled Potato & Leek Soup
Crispy Tomato, Basil Crisps
Wasabi & Sesame Crusted Polenta
Tagine Vegetables, Apricots, Dates, Curry Emulsion
Wild Mushroom Risotto
Truffled Herb Butter
Fall Vegatbles Four Ways
Roasted Spaghetti Squash with Caramelized Salsify
Herb Spaetzle with Sweet and Sour Red Cabbage
Crispy Gruyère Chees and Potato Fritters
Roasted Cauliflower with Toasted Pine Nuts
Crème Brûlée
or
Soufflé Du Jour
or
Mascarpone Tiramisu
Reservations for this unique culinary event are strongly encouraged and can be made by calling (702) 951-7000.
Related Links:
Alize Reservations and Information