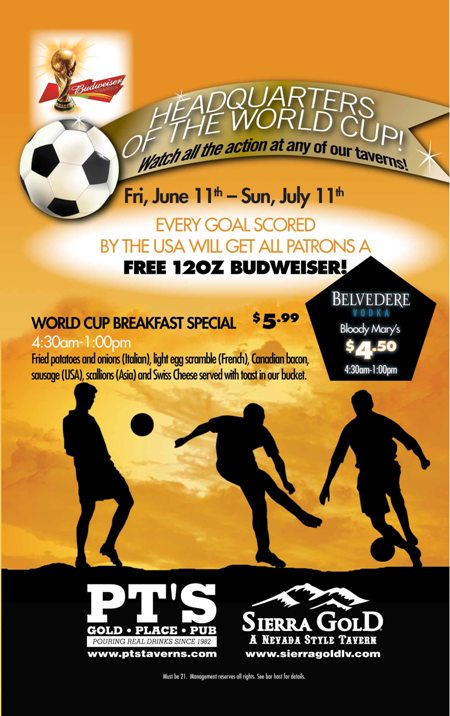 PT's Pubs a and sierra Gold taverns are your headquarters in Las Vegas of the World Cup!
Watch all the action at any of our taverns from Friday, June 11 to Sunday, July 11.
Every goal scored by the USA will get all all partons  a FREE 12oz Budweiser!
Enjoy the world Cup Breakfast Special from 4:30 AM till 1:00 PM for only $5.99! Menu consists of:
Fried Potatoes and Onions (Italian)
Light Egg Scramble (French)
Canadian Bacon & Sausage (USA)
Scallions (Asia)
and Swiss Cheese served with toast in our bucket!
Also catch Belvedere vodka Bloody Mary's for only $4.50 between 4:30 AM and  1:00 PM!
For more information please visit www.ptstaverns.com or www.sierragoldlv.com.
Management reserves all rights. See bar tender for details.
The above information is provided or obtained through Las Vegas media sources. The operators of this site are not responsible for the accuracy or duration of the offer. Please always call ahead to verify any specific advertisement or deal posted here.