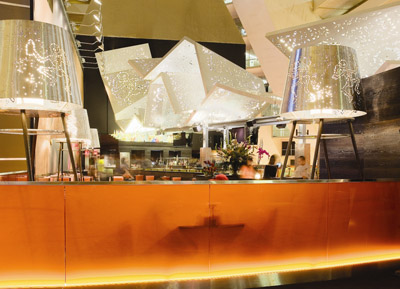 Just in time for summer, Tacos & Tequila (T&T), the rock 'n' roll-inspired Mexican restaurant at Luxor, introduces new happy hour specials. Locals and tourists will enjoy a variety of libations and tasty tacos at a special price, Monday through Friday from 3 to 5 p.m.
Guests will get their drink on with Hornitos shots, Dos Equis Lager or casaritas, available for just $5 each, or a bucket of authentic, Sol Mexican beers, served on ice, available for $18. Revelers with an appetite will go loco for T&T's delicious taco and beer combo featuring six signature tacos and a bucket of Sol Mexican beers for $29.
Tacos & Tequila embodies the cool modernism of the new Mexico City while incorporating traditional elements of Mexican style and high-end Las Vegas panache. The color mixture of old and new creates a vivid picture of brushed aluminum, dark wood, leather, bright fabrics and colored glass. The focal point of T&T's design is its abstract sombrero composed of 20 brushed-aluminum panels featuring thousands of laser-cut images, including two 30-foot dancing, tequila-drinking skeletons. Lit from within, the breathtaking panels stretch across the entire length of the restaurant floor and across the common area, connecting the T&T retail store and walk-up daiquiri bar.
The highly-stylized Mexican restaurant and bar with a fun, high-energy vibe and flavorful menu is located at Luxor Hotel and Casino, open daily from 11 a.m. until 11 p.m. The 8,000-square-foot venue embodies Mexican culture intermixed with rock-n-roll flair with a flavorful menu created for Drive This Entertainment! by the talents of world-renowned restaurateur and chef, Richard Sandoval. For more information contact T&T at 702.262.5225
Related Links: