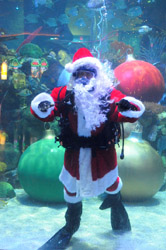 WHO: Silverton Casino Lodge
WHAT: The Silverton Casino Lodge is spicing up the holiday season by putting Santa Claus in a whole new environment…the resort's 117,000 – gallon aquarium! (Photo credit Robert Stanzione).
The underwater Santa will be posing in his new environment the next two weekends in December, offering guests and families around the valley a chance to get creative with their yearly Christmas photos.
WHEN: 10 a.m. to 1 p.m. each day
Saturday, Dec. 18 and Sunday, Dec. 19
WHERE: Silverton Casino Lodge
3333 Blue Diamond Road
Las Vegas, NV 89139
Related Links: