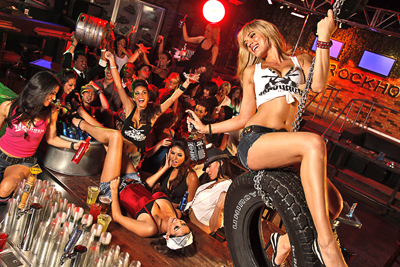 This Cinco de Mayo Rockhouse Bar & Nightclub will launch "55 Days of Summer," featuring nearly three months of specials on Budweiser SELECT 55.
The only ultra dive bar in Las Vegas will kick off the warm weather season with a fiesta of fives on the patio on Wednesday, May 5. In addition to the "55 Days of Summer" offering of two Budweiser SELECT 55s for $6, Rockhouse will feature $5 Jose Cuervo shots and margaritas throughout the "55 Days of Summer."
The Rockhouse's signature 80-ounce souvenir guitars will hold enough frozen margarita for any fiesta, and are sure to be a popular offering in the holiday synonymous with tequila.
Blending a local dive bar with the glamour of Sin City's party scene at a convenient center Strip location, Rockhouse is the top party destination on the Strip. Las Vegas' only ultra dive bar features top-notch lighting and sound with the best DJs in Las Vegas blending upbeat rock, hip-hop and dance. With beautiful bartenders pouring drinks from the bar tops, playing in the giant bird cage and dangling from tire swings suspended from the ceiling, Rockhouse is the spot where the party never stops. Rockhouse is located on Las Vegas Blvd. in front of Imperial Palace, directly across from Caesars Palace in the middle of the Las Vegas Strip. The daiquiri and main bar open daily at 10 a.m. and the adjacent nightclub is open from 9 p.m. to 5 a.m. nightly. For more information visit www.therockhousebar.com