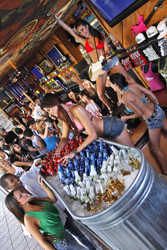 In the midst of an economic recession, Rockhouse Bar and Nightclub has the solution to the Spring Break epidemic that is sweeping the nation. College students across the country have been forced to adjust, or in the worst case scenario, abandon their Spring Break party plans. Rockhouse's "Spring Broke 2010" will pickup right where it left off last year, with a memorable Spring season full wild parties and drunken all-nighters for those party-hard Spring Breakers that are still "Spring Broke."
"Spring Broke 2010" will be ongoing at Rockhouse from March 1 until Memorial Day weekend as an invitation for all co-eds to let loose and get wild – on a recession budget. Students that show their college ID all season long will receive great deals that will please party-craving collegiates and their wallets (or lack-thereof).
* Broke Student Specials: For those ballers on a budget, Rockhouse will offer $100 bottles Monday through Thursday with a valid student ID, based on availability. Additional weekday specials include two-for-$5 canned beers and $5 Cuervo margaritas and Jager bombs.
* VIP Dean's List: We don't discriminate against teachers' pets, but at Rockhouse everyone makes the Dean's List. Show a valid student ID any day of the week before 10 p.m. to make the grade with complimentary cover.
* Schoolgirl's Night Out: On Thursday nights, sexy schoolgirls will receive complimentary admission and free drinks from 10:30 p.m. until midnight.
* Weekend Beer Pong Competitions: Because Rockhouse knows co-eds like to party, the ultra dive bar will host college beer pong competitions every Friday and Saturday from 11 a.m. until 6 p.m. Students will also enjoy two-for-one well drinks and domestic bottled beer, and $5 shots before 6 p.m.
Blending a local dive bar with the glamour of Sin City's party scene at a convenient center Strip location, Rockhouse is the top party destination on the Strip. Las Vegas' only ultra dive bar features top-notch lighting and sound with the best DJs in Las Vegas blending upbeat rock, hip-hop and dance. With beautiful bartenders pouring drinks from the bar tops, playing in the giant bird cage and dangling from tire swings suspended from the ceiling, Rockhouse is the spot where the party never stops. Rockhouse Bar & Nightclub is located on Las Vegas Blvd., in front of Imperial Palace, across from Caesars Palace, in the middle of the Las Vegas Strip, between Spring Mountain and Flamingo. The daiquiri and main bar open daily at 10 a.m. and the adjacent nightclub is open from 9 p.m. to 5 a.m. nightly. For more information visit www.therockhousebar.com, and for bottle and table reservations call 702.731.9683 or email info@therockhousebar.com.