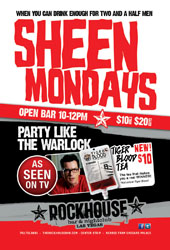 'Sheen Mondays' + Rockhouse = #winning. Rockhouse is throwing the only Charlie Sheen party in Las Vegas with 'Sheen Mondays' every Monday night. Winners can partake in an open bar from 10 p.m. to midnight, $10 for girls and $20 for guys. The ultra-dive bar will also introduce its newest cocktail for warlocks with a different constitution, a different brain and a different heart; the Tiger Blood Tea.
Day or night, it's always the right time to party at Rockhouse. Whether people watching on the rowdy Strip-side patio by day, or dancing on the bar with an 80-ounce guitar by night, the ultra-dive bar is one of Vegas' best-kept secrets. Rockhouse will give partygoers the ultimate nightlife experience – minus the "VIP" attitude. With a knockout lineup of gorgeous bartenders, bottle service that won't break the bank, a daiquiri bar and casual dress code, Rockhouse is definite must-visit hotspot for locals and tourists alike.
Blending a local dive bar with the glamour of Sin City's party scene at a convenient center Strip location, Rockhouse is the top party destination on the Strip. Las Vegas' only ultra-dive bar features top-notch lighting and sound with the best DJs in Las Vegas blending upbeat rock, hip-hop and dance. With beautiful bartenders pouring drinks from the bar tops, playing in the giant bird cage and dangling from tire swings suspended from the ceiling, Rockhouse is the spot where the party never stops. Rockhouse is located on Las Vegas Blvd. in front of Imperial Palace, directly across from Caesars Palace in the middle of the Las Vegas Strip. The daiquiri and main bar open daily at 10 a.m. and the adjacent nightclub is open from 9 p.m. to 5 a.m. nightly. For more information visit www.therockhousebar.com, and for bottle and table reservations call 702.731.9683.