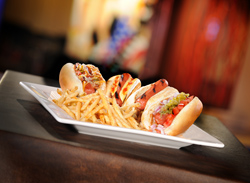 Because hunger can strike at any time of the night, Rock & Rita's at Circus Circus has launched a delicious all-night menu, with reverse happy hour specials to satisfy any midnight craving. Night owls can flock to Rock & Rita's for great deals on food and drinks any time of night.
As the clock strikes 10 p.m. Rock & Rita's will roll out its new all-night menu featuring seven tasty items for just $5 each and two-for-one drinks until 6 a.m. Ravenous revelers can choose from soft pretzels, spinach dip, nachos, sliders, quesadillas, pulled BBQ pork or beef dip, all for five bucks a pop. In addition, Rock & Rita's team of award-winning flair bartenders will pour partygoers two drinks of their choice for the price of one, keeping late-nighters happy until it's time to hit the hay.
Rock & Rita's late night menu and reverse happy hour is available nightly, from 10 p.m. until 6 a.m. The brand-new dining and entertainment venue at Circus Circus offers its all-American menu featuring comfort food classics served 24-hours a day with breakfast from 7 a.m. to 11 a.m., lunch from 11 a.m. to 4 p.m. and dinner from 4 p.m. to 10 p.m.
In addition to great food, creative cocktails and live music, the "Great American Party" hotspot also showcases 20 of the world's top flair bartenders that flip, spin, balance, juggle and pour some of the best cocktails on the Strip. For more information about Rock & Rita's, visit www.RockandRitas.com or call 702.691.5991.
Related Links: