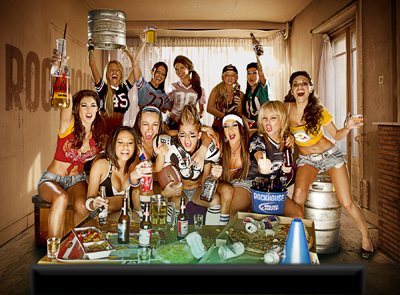 Rockhouse Bar & Nightclub knows "Girls Love Football" just as much as their macho counterparts, so this season Vegas' only ultra-dive bar invites pigskin fanatics one and all to the greatest football parties on the Strip. Starting with college ball Thursday, September 2, Rockhouse invites guys to bring their girlfriends, and ladies not to bring their men, for a rowdy good time at Rockhouse's "Girls Love Football" college kickoff party.
Hosted by Budweiser, Rockhouse will get the party started at 3:30 p.m. with the complete lineup of college games shown on 28 high-definition television screens throughout the bar and patio. During game time guests will receive two-for-one Bud Light bottles. And we didn't forget about the ladies. Beginning at 10:30 p.m., female football lovers, and even those that aren't, will celebrate their victory – or drown their sorrows – with drinks on the house until midnight.
This season, Rockhouse is the best bar on the Strip to catch the football action. With 28 high-definition television screens showing every minute of every game, viewers will all experience the best seat in the house. With no cover and daily beer specials football fans can't go wrong.
Day or night, it's always the right time to party at Rockhouse. Whether people watching on the rowdy Strip-side patio by day, or dancing on the bar with an 80-ounce guitar by night, the ultra-dive bar is one of Vegas' best-kept secrets. Rockhouse will give partygoers the ultimate nightlife experience – minus the "VIP" attitude. With a knockout lineup of gorgeous bartenders, bottle service that won't break the bank, a walk-away daiquiri bar and casual dress code, Rockhouse is definite must-visit hotspot for locals and tourists alike.
Blending a local dive bar with the glamour of Sin City's party scene at a convenient center Strip location, Rockhouse is the top party destination on the Strip. Las Vegas' only ultra-dive bar features top-notch lighting and sound with the best DJs in Las Vegas blending upbeat rock, hip-hop and dance. With beautiful bartenders pouring drinks from the bar tops, playing in the giant bird cage and dangling from tire swings suspended from the ceiling, Rockhouse is the spot where the party never stops. Rockhouse is located on Las Vegas Blvd. in front of Imperial Palace, directly across from Caesars Palace in the middle of the Las Vegas Strip. The daiquiri and main bar open daily at 10 a.m. and the adjacent nightclub is open from 9 p.m. to 5 a.m. nightly.