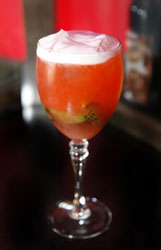 In honor of Mexican Independence Day on September 16, Fusion Mixology Bar at The Palazzo is offering Ambhar tequila drink specials throughout September. 2010 marks the bicentennial year of Mexico's independence and the Latin-inspired Fusion bar featuring spectacular hand-crafted cocktails with ingredients from Mexico is the best place on the Strip to celebrate. Trained mixologists use fresh fruits and the muddling technique of grinding sugar and fresh limes and lemons to create one-of-a-kind libations.
During September, the mixologists will create a special drink called "El Grito de la Independencia," after the famous battle cry of the Mexican War of Independence. Consisting of Ambhar tequila, strawberries, lime juice, rock candy syrup and basil leaves, and topped with lemoncello foam, guests will be shouting "Viva Mexico!" after sipping this delicious drink. Fusion will also offer shots of Ambhar tequila for $7.
Fusion is open 24 hours a day, seven days a week on the casino floor near Dos Caminos.
WHERE: Fusion Mixology Bar, The Palazzo Las Vegas, 3325 Las Vegas Blvd., South
Related Links: